Angel Of The Morning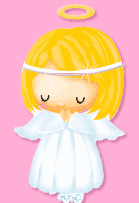 I'm the Morning Angel,
I help you start your day.
I'm the sugar in your coffee cup,
The bulb that lights your way.



I'm the refreshing water,
You splash upon your face.
I'm the one that helps you find
Your worn out old briefcase.



I'm the rays of sunshine,
Dancing on your floor.
I'm the gentle nudge you need,
To get you out the door.

I know you think you're not ready yet,
To tackle a brand new day....
But remember that I'm here with you...
Let's just get through today.

Send Angels To All Your Friends,
Reminding Them That They Are Always Being Watched!