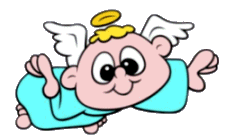 One day God was looking down on Earth.
He figured things were getting
a bit sinful down here,
so he sent one of His best angels
down to Earth to check it out.



Upon returning to heaven,
the Angel reported
"It is not looking so good on Earth.
About 95 percent of humans
are being bad,
five per cent good."



"This is not good." God replied.
But feeling quite benevolent,
God wanted to encourage the good
rather than punish the bad.



He decided to e-mail the five
percent that were good,
to encourage them to keep going.