How ironic the situation
Unbelievable to us all
There stands the Statue of Liberty
Watching the towers fall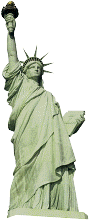 She symbolizes freedom
The spirit for which we stand
Guardian of Liberty
A light that shines the land



Her eyes now fill with teardrops
Her flame is not as bright
But her face shows determination
As she views that terrible sight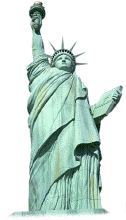 America will stop the teardrops
And will brighten up her flame
And will destroy the enemy
From whence this horror came.
~by Mr. Doug, 9/22/01~
America We Must Stay Strong,
We Are United As One.
In Memory Of Those Who Passed Away In The
Terrorist Acts On September 11, 2001.
Please Vote For Us on World's Top Fun Sites!
Most Content Submitted By Visitors and Put Togehter By FunOFun.com.