Friendship Fairies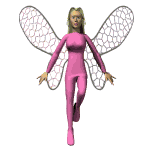 We Are Friendship Fairies
We Have Come From A Distant Land To Visit You!
Someone Adores You, And Thinks That
You Are A Very Very Special Friend,
They Want To Ensure That You Are Well Taken Care of..
So We Were Sent To Watch Over You!

















These Are Magical Fairies
You Must Pass These Fairies To Atleast 5 Friends.
After You Do, Make A Wish And Your Fondest Romantic,
Wish Will Come True!
True Friends Will Send It Back To You!